Indian musical instruments go Digital
– Ranjani Govind
Source: http://www.thehindu.com/todays-paper/tp-features/tp-neighbourhood/article777917.ece
M

ost music connoisseurs are familiar with Radel Electronics' electronic transistorised shruti box that enlivens stage concerts today, and the electronic tanpura and talometer for percussion support. Three decades of R&D to bring about an electronic revolution has paid off for Raj Narayan, the founder of Radel Electronics, which specialises in electronic musical instruments for Indian music. They have even received Government of India's recognition for their extraordinary research and development work.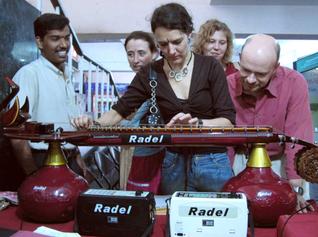 Radel started in 1979 as a tiny industry from a garage. Its unusual line of products was the brainchild of its founder, Mr. Narayan, who is an acclaimed Indian Classical flautist himself. Located at Electronics City, Radel's all-time hits include Electronic shruti box – Dhruva; Taala audio-visual display for South Indian Music – Talometer; and the electronic tambura, among others.
Call 28520720 or 28520730.