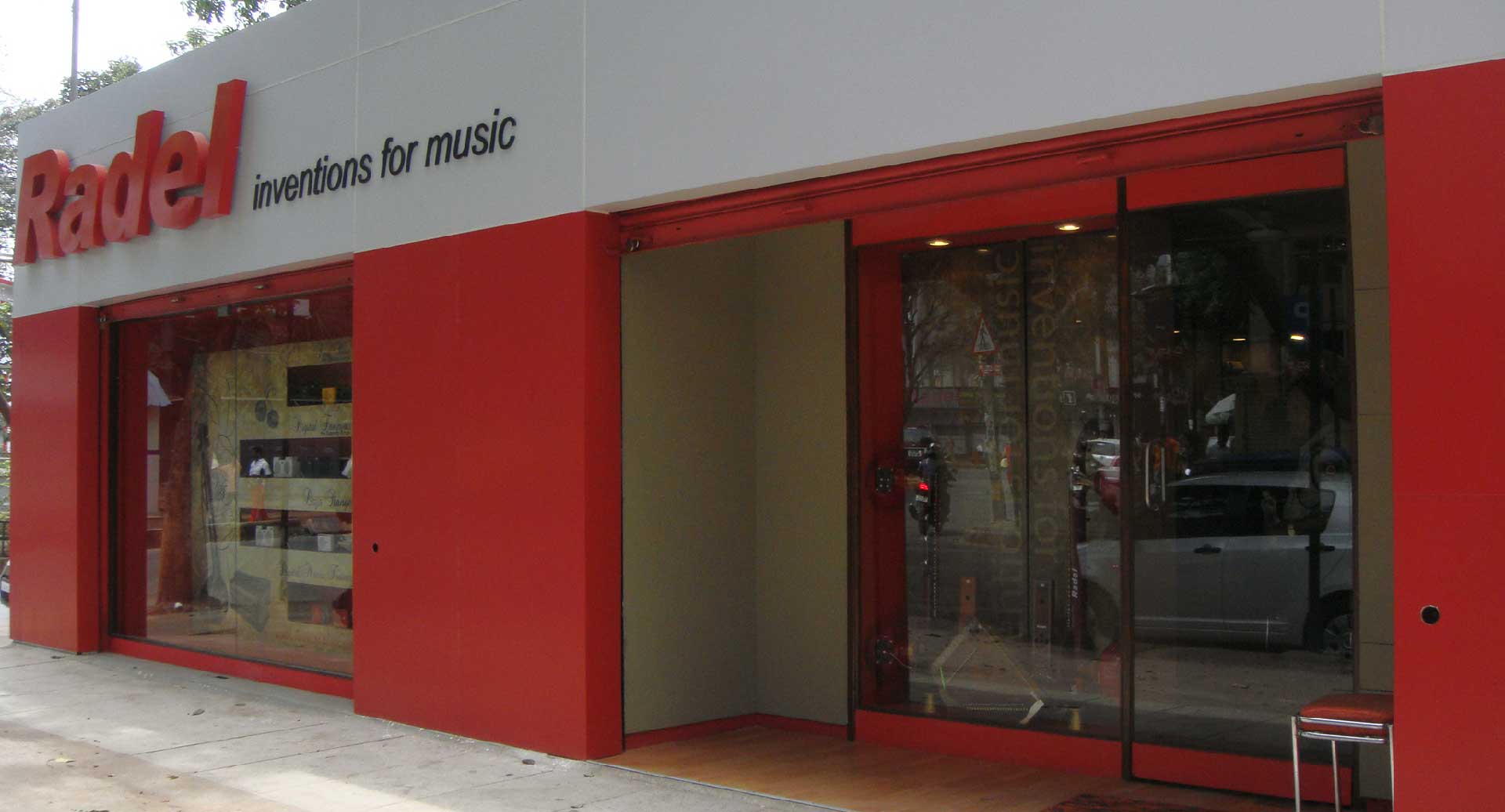 Radel Electronics Pvt. Ltd. is the pioneer in the field of digital electronic musical instruments for Indian music.
A wide range of Digital Indian musical instruments are invented, designed and manufactured by the only ISO 9001:2008 certified, award-winning company for Electronic Indian musical Instruments in the world. Starting as a tiny unit in a garage in 1979, Radel's sophisticated factory today has state-of-the-art facilities for design, manufacture as well as quality assurance. It is situated in the prestigious Electronics City close to Bangalore. The company is professionally managed and employs highly trained manpower.
The electronic musical instruments manufactured by Radel Electronics Pvt. Ltd have been invented by its founder G Raj Narayan, an engineer-cum-musician of Bangalore. These products therefore cater to the very precise and artistic needs of a musician. Their excellent tonal quality has earned them the approval of leading musicians. They are suitable for use in concerts as well as practice sessions.
The instruments are extremely simple to operate. Highly sophisticated technology used in their design, continuous research and development besides vigorous tests during manufacture have resulted in the production of sound almost identical to that of the conventional instruments that they simulate.
Radel's exhaustive list of clientele include eminent musicians like Dr. L Subramaniam, Pandit Jasraj, Dr. S. Balachander, Pandit Bhimsen Joshi, Pandit Ravi Shankar and Ustad Amjad Ali Khan & Shubha Mudgal, to name a few.
Radel's dedicated team – the design, production, sales & marketing and administration departments synchronize their efforts to produce the world-class musical instruments that are admired everywhere.
Awards
Karanataka Kalashree (2001), Govt of India National Award for R&D (2009)
G Raj Narayan – Founder & Managing Director hails from a family of musicians and is himself a well known senior flautist of Karnataka State, India.
He has been broadcasting classical Carnatic (South Indian) music over the All India Radio and Doordarshan TV since 1969. He is graded 'A' by A.I.R. He won the A.I.R music competition for flute in 1968. Other awards include the "Sur Mani" title from the Sur Singar Samsad of Bombay and the "Ananya Award" for the best musician at the annual conference of the Karnataka Gana Kala Parishat in 1997 for his achievements as a musician. He also received the "Young Electronics Engineer" award from IMM, New Delhi in 1987 and the Karnataka State Government "Rajyotsava Award" in 1996, for his achievements in the field of electronic musical instruments. Having learnt to perform both the Carnatic and the Hindustani styles of music, he is fully aware of the intricacies involved in classical Indian music.
As a musician, he invented these electronic musical instruments out of necessity to facilitate his own practice sessions. Therefore, he is continuously aware of the needs faced by a musician and uses his own practical observations as well as feedback from users to further improve existing products.
Raj Narayan holds a Masters degree in electronics from the Indian Institute of Technology, Madras. After spending ten years as a designer of aerospace systems, he utilised his knowledge and skills acquired in a high-tech field to set up his own industry to design and manufacture the electronic musical instruments that are used widely all over the world. His designs therefore have reliability, serviceability, miniaturisation, optimal power utilization and ergonomics inherent in them.
1971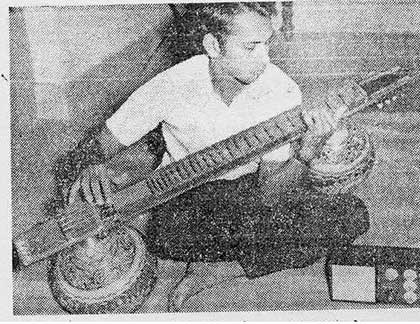 Electronic Sruti Box Dhruva (Transistorised), Electric Veena The first electronic Transistorised sruti box and portable electric veena invented by Raj Narayan were demonstrated by him at the annual conference of the Karnataka Gana Kala Parishat in 1971 at Bangalore.
1978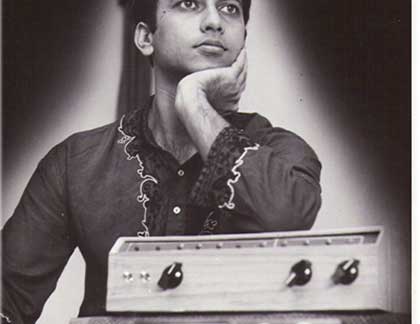 First Electronic Talometer The first electronic taala display instrument Talometer invented by Raj Narayan was demonstrated at the annual conference of Karnataka Gana Kala Parishat in 1978 at Bangalore.
1979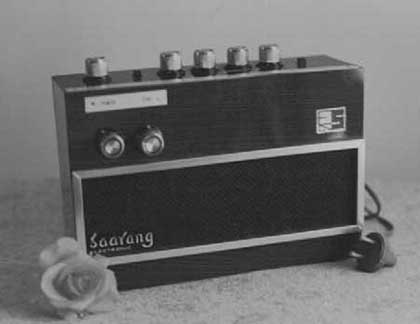 First Electronic Tambura Saarang The first ever electronic tambura Saarang invented by Raj Narayan was demonstrated by him at the annual conference of the Madras Music Academy in 1979.
1986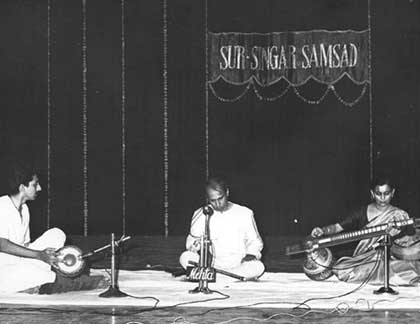 Electronic Veena The improved version of the portable veena, the electronic veena with built-in amplispeaker being performed by Radhika Rajnarayan during a duet performance of flute (Rajnarayan) and veena, at the Sur Singar Samsad Kal ke Kalakar festival in Mumbai, for which both of them were awarded the 'Sur Mani' title.
1987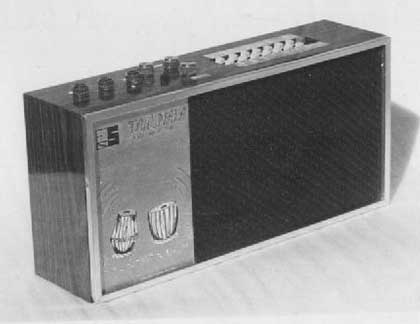 First Electronic Tabla Taalmala. Raj Narayan demonstrating his invention – electronic tabla Taalmala at the Gana Kala Parishat's annual conference in 1987 by using it as accompaniment for a flute recital.
1993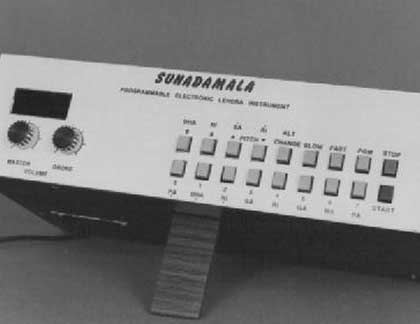 Electronic Lehera Instrument, Sunadamala Pt Ravi Shankar launched Raj Narayan's new creation – electronic lehra Sunadamala at Bangalore in 1993.
1995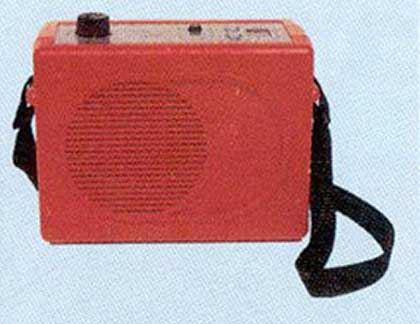 Compact Sruti Box CD Radel achieved a jump in production volumes along with miniaturisation, by designing moulded ABS plastic cabinets for its products, starting with the Radel Compact Dhruva sruti box.
1998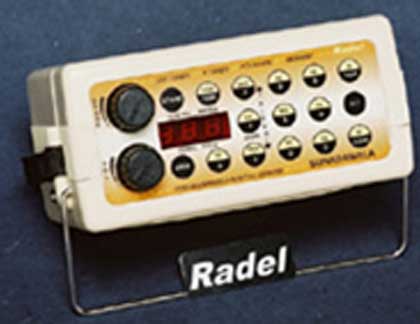 Compact Sunadamala The technology was then applied to launch a compact version of Radel's lehra Sunadamala.
1998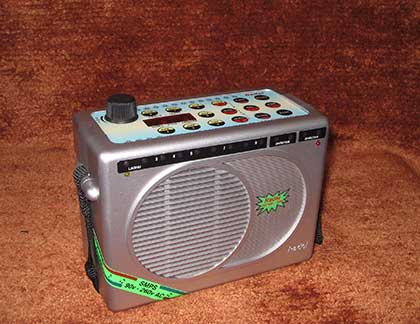 Compact Talometer The Compact Radel Talometer in the ABS plastic cabinet.
1999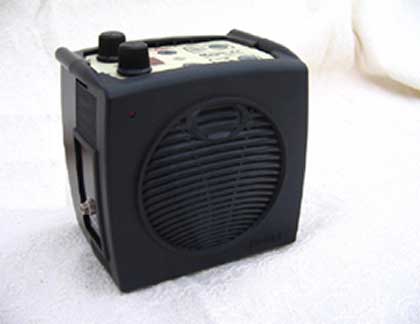 Sampled sound  tanpura Radel achieved a quantum jump in technology by adopting sampled sound technology to produce the actual sound of the tambura in the Saarang Magic tambura – Sheer Magic in a tiny box!
2001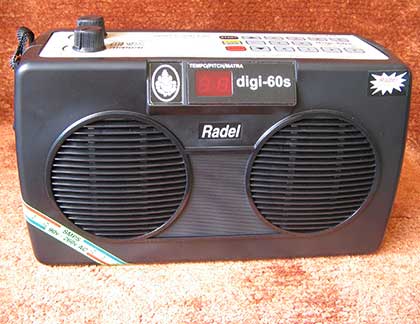 Sampled sound stereo digital tabla Sampled sound along with stereo was introduced in the Radel Taalmala, thus achieving an amazingly realistic sound!
2002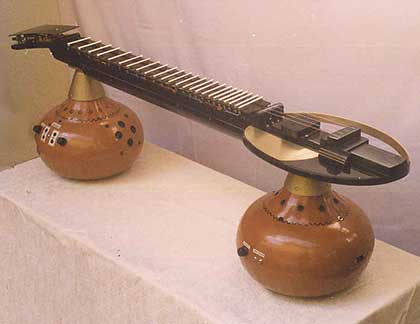 Digital Veena – First synthesizer in Indian musical Instrument form The first electronic Indian musical instrument to be awarded a patent is the digital veena, Radel digiveena, demonstrated at the Madras Music Academy in 2002.
2002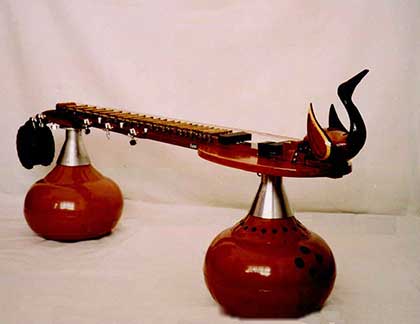 Sunadavinodini Electronic veena with moveable frets and updated technology The modern electronic veena Radel Sunadavinodini with added features like movable frets and built-in tambura was launched in 2002.
2004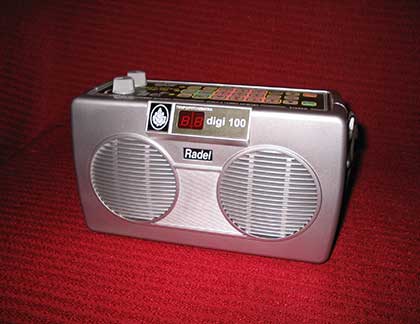 First Indian MIDI compatible musical instrument Taalmala Digi 100 The first ever MIDI compatible digital Indian musical instrument, Radel's Taalmala digi-100 was launched by renowned musician Dr N Rajam in Mumbai, 2004.
2005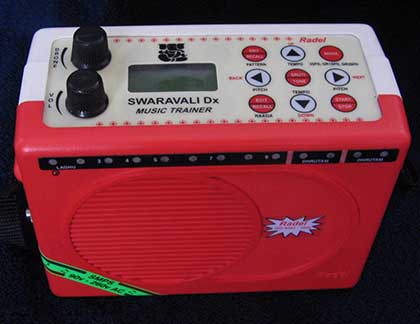 Swaravali Music trainer The electronic teaching companion – the Radel Swaravali music trainer was launched in 2005.
2006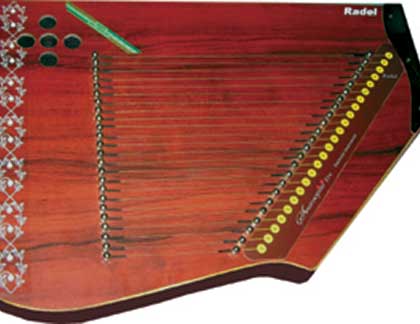 Swaroopini Electronic Swarmandal Radel's innovation, electronic swarmandal Swaroopini was launched in 2006.